TREE CARE AND TRIMMING IN LOS ANGELES
Our exceptional tree care division can handle any tree care request. Our reach begins in the San Fernando Valley and extends throughout the great Los Angeles Area. We have can trim a handful of trees or several hundred as we have for the Bussisnes Improvement District in Westwood Village and for other customers.
Our team can adapt to whatever trimming methods are necessary to get the job done. Whether it is climbing trees or using bucket lifts. Our team can remove entire large trees in a matter of hours.
Call us today for a free tree trimming and pruning estimate. We can also help if you are in need professional arborist advice, or treatments.
Here are all the ways we can help your trees thrive:
Annual trimming and pruning
Tree installations
Arborist Consulting
Tree Structure Assesments
Disease and Pest ID
Tree Disease Treatment
Tree Pest Treatment
Tree Fertilization Programs
Deep root watering
Landscape Construction
Every landscape construction or installation project is different. We keep our installation teams versatile so we can tackle big and small projects. We are one of Los Angeles premier landscaping destinations and we have California Landscape Contractor Association CLCA award recognitions to back it up.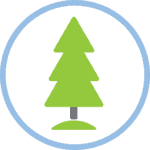 Tree Care
Tree care is important because most trees can last a lifetime. Our team can help you decide what trees are best for your landscape, and how to best care for your existings trees. Our arborists can develop trimming schedules and assess the current health of your trees. We can prune one tree, or several hundred if you need us to.
Vegetation Control
For general or selective weeds control. Our licensed applicators can guide you through best vegetation control programs for your property.