Do you own or manage a property? There are expensive irrigation repairs to consider if you do. A new irrigation regulation recently went into effect that will change your old sprinkler set up. On August 14, 2020 the California Energy Commission created a new law with Resolution 19-0814-7. It mandates that all spray heads be pressure regulated sprinklers effective October 1, 2020. Read more about this mandate here. According to Irrigation & Green Industry this regulation is effectively ending production of old sprinkler bodies that don't have a pressure regulating component.
The Natural Resources Defense Council says this regulation will save over 400 million gallons of water per day in 10 years. That's roughly equivalent to the daily water use in San Diego.
How does this affect you (and everyone else)?
Rainbird and Toro have stopped making old sprinkler devices. This means consumers will quickly lose the option to purchase old parts required to maintain their irrigation systems. Retail representatives say the old sprinklers are nearly sold out.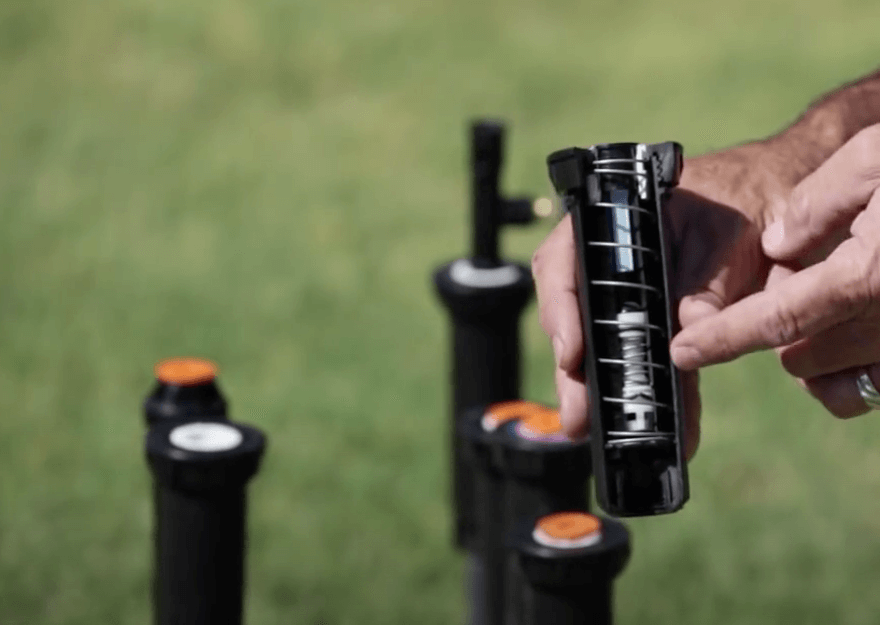 Why does it cost so much?
Imagine having to replace a broken sprinkler with a new one that has half the water output. This creates an imbalance in watering. If watering duration is left the same, the new sprinkler will not provide enough water to its target area. Alternatively, you can increase watering for the whole zone. However, you will overwater everywhere else that doesn't have the pressure regulating sprinkler.
To avoid under- or over-watering, property owners and managers will need to replace ALL sprinklers in every zone.
How can you manage this best?
Fortunately, the executive team here at Groundcare stocked our shelves with conventional sprinklers shortly after learning of this new mandate. We have enough parts for repairs at our customers' properties for several months.
We urge our customers to begin planning now. Work with your account manager to plan which zones to convert first. It doesn't have to be all at once. In fact, it may be in your landscape contractor's interest to do the work in phases, especially for larger properties. If you are lucky, your water utility may provide generous rebates to install the new sprinklers. Tammie Myers from California Water Service (Cal Water) confirmed their agency provides customers a $10 rebate per device and an additional $8 if installed by a professional C-27 Licensed Landscape Contractor. Cal Water services many areas including Westlake, East Los Angeles, Rancho Dominguez, and Bakersfield.
We encourage you to begin planning soon. An early start can secure good pricing through non-urgent work. Even better, it will keep your gardens green and healthy.
You can view more of our irrigation management offerings here. Feel free to call us and schedule your consultation at 818-768-8594.