WATER MANAGEMENT AND IRRIGATION SERVICES IN LOS ANGELES
Our integrated water management approach has been ever evolving and improving since watering restrictions began in Los Angeles in 2015. Our experienced irrigation managers can quickly identify water saving opportunities at properties of any size or landscape type.
Our team will routinely map out irrigation systems at commercial and industrial, and communal properties. This makes future servicing precise and less costly. New emerging technologies allow us to accurately determine what irrigation upgrades will yield the most water saving benefit.
Our Water Management Services include:
Irrigation Repair

Valve Repair

Irrigation Audits

Irrigation Troubleshooting

Centralized Irrigation Controlling

Irrigation Mapping

Drip System Installment

Drip System Retrofit

Water Effiecient Retrofit

Smart Timer Controller upgrades

Rain Sensor Installation

Water Budgeting

Seasonal Water Adjustments

Backflow repair

Sprinkler Valve Repairs
Landscape Construction
Every landscape construction or installation project is different. We keep our installation teams versatile so we can tackle big and small projects. We are one of Los Angeles premier landscaping destinations and we have California Landscape Contractor Association CLCA award recognitions to back it up.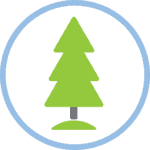 Tree Care
Tree care is important because most trees can last a lifetime. Our team can help you decide what trees are best for your landscape, and how to best care for your existings trees. Our arborists can develop trimming schedules and assess the current health of your trees. We can prune one tree, or several hundred if you need us to.
Vegetation Control
For general or selective weeds control. Our licensed applicators can guide you through best vegetation control programs for your property.