COMMERCIAL LANDSCAPE MAINTENANCE
Whether you are experiencing neglect in your landscape or are only beginning to see it, the best time to address it is now!  Our crews are throughly trained to deliver quality service on time and within budget. Our service reach extends throughout the Los Angeles and San Fernando Valley Areas.
When inquiring about regularly scheduled landscape maintenance services our customers can expect to talk to a seasoned account manager ready to answer any questions and to schedule an appointment right away.  After enrolling in service customers can expect to have an assigned crew visit their property on a set schedule and on time.
Here are some items that can be included in landscape maintenance:
Lawn Maintenance
Planter Bed Maintenance
Turf Fertilization
Turf Weed and Disease Control
Plant Fertilization
Plant Disease Control
Hedge Trimming
Shrub Pruning
Tree Trimming
Tree Health Care
Mulching
Seasonal Flower Rotation
Debris Collection & Haul
Enhancement Proposals
Landscape Construction
Every landscape construction or installation project is different. We keep our installation teams versatile so we can tackle big and small projects. We are one of Los Angeles premier landscaping destinations and we have California Landscape Contractor Association CLCA award recognitions to back it up.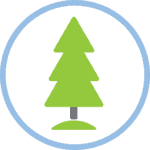 Tree Care
Tree care is important because most trees can last a lifetime. Our team can help you decide what trees are best for your landscape, and how to best care for your existings trees. Our arborists can develop trimming schedules and assess the current health of your trees. We can prune one tree, or several hundred if you need us to.
Vegetation Control
For general or selective weeds control. Our licensed applicators can guide you through best vegetation control programs for your property.