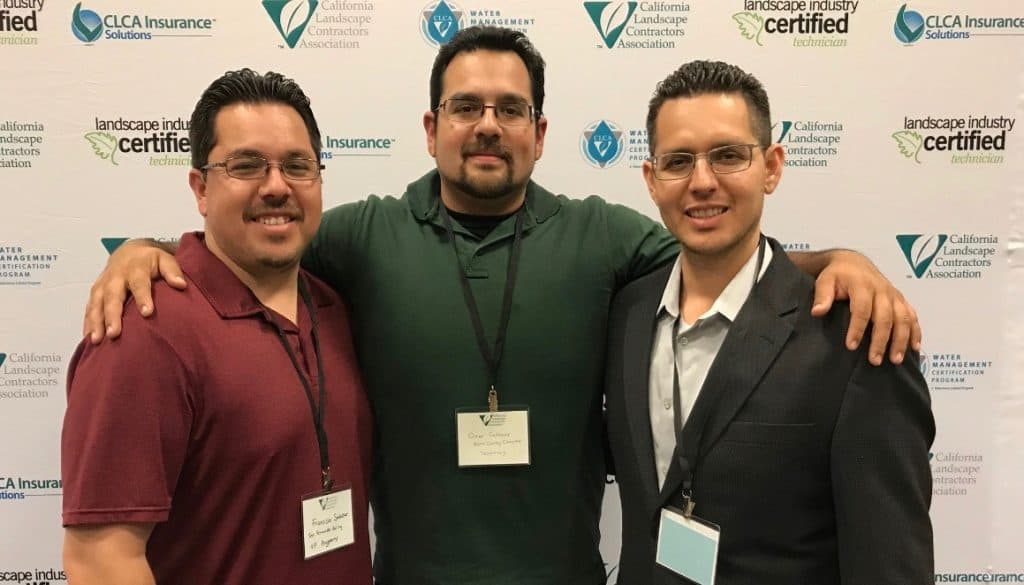 Pictured above from left to right: Francisco Salazar, Omar Salazar and Alex Salazar attending the 2018 CLCA Leadership Conference.
FAMILY OWNED
AND PROUD OF IT
We pride ourselves in being a family-owned company.
Four brothers manage and work the day-to-day operations, Ivan, Omar, Alex, and Francisco. Passion founder and father Javier Salazar regularly joins his sons and crews out in the field, keeping his finger on the pulse!
Our team is proud to wear the Groundcare badge. We have completed hundreds of construction projects and serviced thousands of customers. We believe our experience and commitment to our work sets us apart from other companies. We look forward to continuing to serve our communities for years to come.
WHAT MAKES A GREAT TEAM?
Passion and trust.
Make no mistake, finding an excellent landscape team can be a daunting task. Now more than ever we face record labor shortages. Small companies face the challenge of limited resources. Big companies face the challenge of quality control, especially during phases of growth.
At Groundcare we keep our focus on two primary things, our team and our customers. We believe having the right team comes first. Without it, having great customers is not sustainable. For this reason we invest heavily on recruiting. In fact, our recruiting engine is always working, vying for the best employee candidates. We work hard on retention, showing our employees we value them through education and training; and with some of the most competitive compensation packages available. We know that the best trained landscape team is a prerequisite toward winning and keeping great customers.